OILGATE:- (the original issue)
Phil Hughes (known as ferrarifixer on some internet sites) has told a number of lies about me to cover up some poor work he did on my car and to try and protect himself.
Phil Hughes attempted to fix an oil leak I had from the cam covers on my Ferrari F355. He did this work along with an engine out cam belt change and repairs to other oil leaks and general service work. I paid him to do this work. I actually pointed out the cam cover leaks to him specifically.
One month after I got the car back, the cam covers leaked again in exactly the same way. Not only did he refuse to even look at the car, he refused to repair his poor workmanship for over a year, and even then, not until I threatened him with legal action.
He suggested leaving it until the car needed a $35,000.00 engine rebuild!! I wasn't willing to accept this, as I'd only just paid him to fix it, and didn't think this was a good enough response.
After a couple of months of back and forth emails about it, he finally agreed to fix it with him supplying the labour, but me paying for the parts....AGAIN. I found that totally unacceptable too, as I'd already paid him for parts and labour the first time.
13 months later, after trying to find fault with my car (compression/leak tests etc which showed good health), when he finally rectified the leak, he blamed the gasket goo he used the first time. It hasn't leaked since.
My experience with him leads me to the conclusion that he gives no after sales service. Once the cheque's cleared, you're on your own, buddy!
For your information, inspections by Black Stallion Motors saw the cam cover leak and so did Lance Dixon Ferrari. Piero (now at Zagames) even commented that the leak was so bad that it would fail a roadworthy. You could see the drips at the front of the cam covers on BOTH sides. Hughes refused to rectify his faulty workmanship until I had reports and quotes to repair from the independent mechanics, and threatened him with VCAT. The photos are below.
By the time Phil finally decided to rectify his poor workmanship over a year later there was another leak from the sump which he found while repairing the cam cover leaks. This was totally separate from the cam cover leaks and was repaired elsewhere, despite his claim that the other mechanics had misdiagnosed the leak and it was actually the sump all the time. The photos tell the real story.
Phil has been going around saying that there was little or no leaking from the cam covers and that, all along, the leak was from the sump. This is obviously a lie. See the photos for yourself.
I'm sure Piero or Black Stallion would confirm my comments if you could be bothered asking.
Ferrarifixer (as he calls himself) took my money but left my car with an oil leak and took 13 months before attempting to fix it. Until the threat of legal action, he didn't even offer to look at the car, never mind offer to properly fix it. This is unacceptable.
If you want good customer service, in my opinion, don't go to FerrariFixer Phil Hughes in Braeside in Melbourne Australia!
And where are the pictures, you ask? You don't need to be Einstein to see clearly where the leak was.
When it comes to this person, remember, caveat emptor.
Click to see a larger image
Expecting to be treated with respect by a professional guy who doesn't have a chip on his shoulder? Try elsewhere!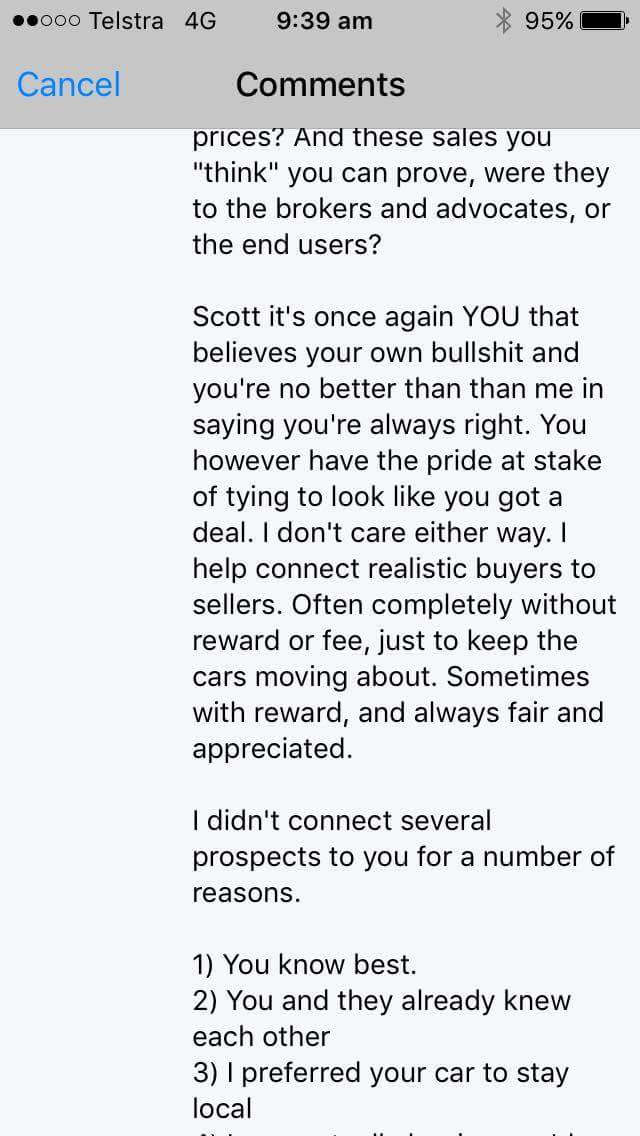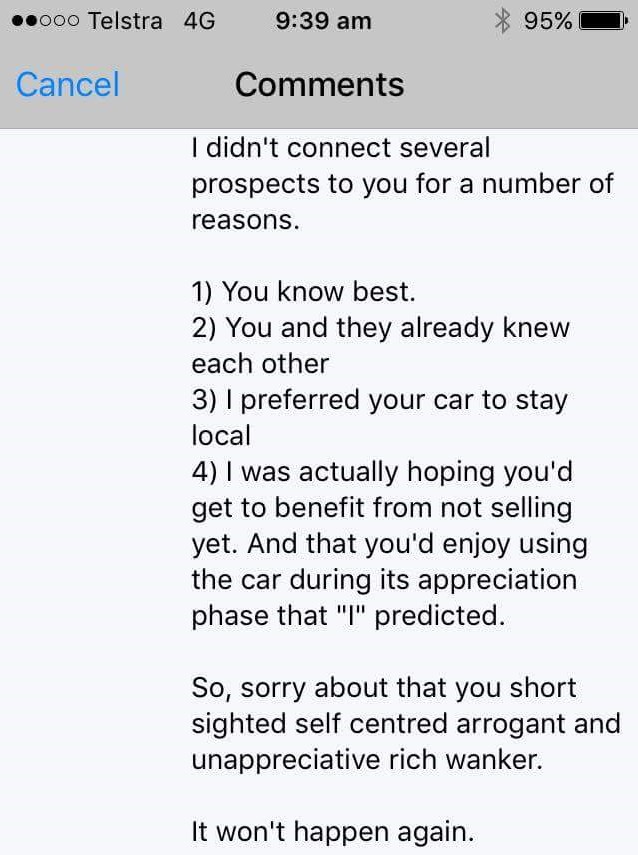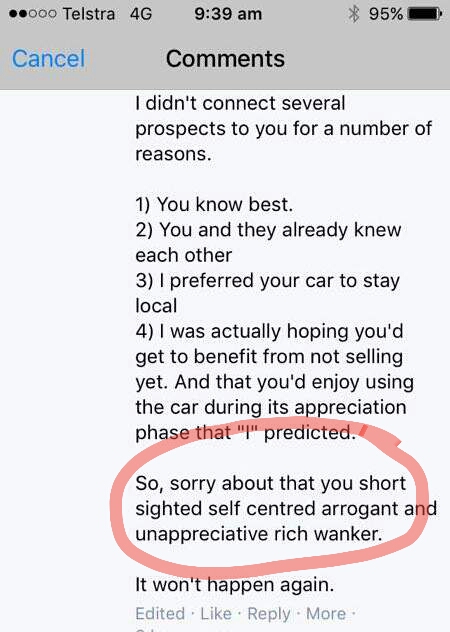 INCREDIBLE UPDATE!!!!
Sadly, my 308GT4 was run into while it was parked in the street and written off. For some inexplicable reason, Phil Hughes decided to post, on a public forum, that "some very reliable sources" had told him that I claimed on my agreed value insurance policy and, further he said that I defrauded my insurance company. He did this to try and discredit me because apparently this website irritates him, and so do I!

Since I neither claimed on my insurance nor was it agreed value anyway, what does that say about him for posting this and his very reliable sources?? Poor Phil was forced to post an apology and retraction.

What does it say about all his other claims, usually from "reliable", but unnamed, sources?

Just wondering.

It's a funny little world...and sometimes...things work out really well
Here's another happy customer:-
(note the pure arrogance of Phil/ferrarifixer)
on 16th December 2010, he described a 599GTO he was testing for a customer like this on an internet forum....
#81- 16 December 2010, 18-41-04
I had a drive of the Melbourne GTO today...

OMFG.... it's SO much better than a regualr 599... and THEY'RE incredible...

Even the computer nanny was well behaved... she's on our side!
#84- 16 December 2010, 21-03-13
It's a bloody sensational car... The power is huge, but incredibly, it just never ends... it seems to pull just as hard from standstill as it does from err... high, speed.

The rear end is the major difference over a regular 599... the way it squats and sticks and the way the nanny lets you know you have 670BHP at your disposal AND you're welcome to use it all... just that she'll keep a loose rein on things WITHOUT spoiling your fun.

I didn't turn the traction right off... just race setting...
Now my questions is, who DRIVES a customer car like that? or any car for that matter? In the inner city??
and.....nothing to do with the idiot above, but I LOVE this video.
Sandro Terzini and the Ferrari 250PF
This criminal matter was heard in the Victorian County Court over August and September 2016 and over the many weeks.
The main players in this case were Sandro Terzini and his business Terzini Motore Aust, Michael Kudelda and Duttons Garage (represented by George Nakas and Jeff Dutton)
The accusation was that Sandro sold Michael's Ferrari 250PF to Duttons without the knowledge or consent of Michael and that Sandro kept the money.
Sandro started working on Ferraris when he got a job with the infamous Joe Viola. When Viola and his then wife were killed in a car accident, Viola's first wife, Alfie, took control of the business and employed Sandro to finish the projects that Viola had unfinished. That gave Sandro the creds and leg up he needed to establish himself as a Ferrari mechanic and soon after started his own business. He and Michael went into some sort of partnership and became friends at around that time. I believe it was the mid 1990s. Michael's involvement in the business only lasted a couple of years, but the friendship lasted until 2014. Sandro attended Michael's wedding in Greece and his wedding celebration dinner here in Melbourne. They spoke often and at length throughout their friendship via phone, emails, texts and whatsapp.
In about 1996 Michael bought the 250PF from Duttons. Michael has had some magnificent and significant cars over the years, not only Ferraris. Soon after purchasing the 250PF, the car developed a gearbox problem. Michael took the car back to Duttons expecting that they would repair the car at their expense and under warranty. Of course warranty in Victoria only applies to cars less than 10 years old, but when Dutton denied Michael's claim, Michael was unhappy and he and Dutton fell out over this, Dutton said.
In the late 1990s Michael moved to Greece. Michael's house in Narbethong was later destroyed in bush fires. A couple of cars were destroyed there, but luckily some cars were at Sandro's. From that time on, he kept some cars stored at Sandro's, including the 250PF.
Apart from his workshop, Sandro had a warehouse that he kept cars at which were incapacitated due to being in various stages of repair or restoration. This is where, according to Michael, the 250PF was stored for years. Whilst Michael had many regular visits to Australia and Sandro's workshop, he rarely or never saw the cars that were stored in the warehouse. Apparently he only drove this car a handful of times in his almost 20 years of ownership.
Sandro had a lucrative side business of putting people together in the buying and selling of cars, and being paid a commission on each sale. Evidence was given of many times that Sandro would receive an offer on a car, take that offer to the owner of the car and, if agreeable, would facilitate the sale. Sometimes the owner and prospective purchaser would talk directly, other times only paperwork was exchanged, with the buyer and seller never meeting or talking. Despite Sandro's claim, there was no evidence to support anything other than money was transferred directly from the purchaser to the owner with previous sales. In fact, previous sales of Michael's cars facilitated by Sandro always ended up with Michael talking to the prospective purchaser and the money being transferred directly into a bank account owned or controlled by Michael. Evidence was given by another Ferrari owner of similar deals with Sandro as the middle man.
Evidence was given that demonstrated that Michael decided to sell the 250PF in about 2007-2008, and he wanted $500,000.00. Sandro told Michael on numerous occasions that he thought that price was a bit steep.
Duttons claims that they started negotiating the purchase of the 250PF with Sandro in about January 2013. Duttons claimed that they probably made contact every month regarding the car. Every time they made an offer, Sandro said he'd check with Michael. The answer was always "No" until a deal was struck in June 2013 in the amount of $465,000 plus $10,000 commission for Sandro. Sandro sent Duttons two invoices on Terzini Motore letterheads, one for the $465,000 and one for the $10,000. Dutton carried out the usual PPSR check and found no claims against the car. They paid the money directly into the Terzini Motore bank account in the first week of July 2013. Before this transfer of funds from Duttons, Sandro's business account had an overdraft of a few thousand dollars. The money for the 250PF was immediately taken out of the Terzini Motore bank account and deposited into Sandro's private account to assist him in the settling of a property he'd bought in Dromana. Duttons are not accused of any wrong doing. They knew that Michael and Sandro were very good friends going back 20 years and that the car was stored at Sandro's. Sandro told them that he was representing Michael and had authority to sell.
Upon purchase, Sandro delivered the 250PF to the Duttons showroom where they immediately put it on display. Within a couple of days, Barry Fitzgerald, a well known collector of cars and petrol head, showed some interest in the car which was offered to him for $635,000, but he called Sandro who told him what Duttons had paid. He said in court that he felt that that sort of profit margin was excessive and didn't buy the car. 3 weeks after purchasing the car, Duttons sold it to Greg LaManna for $550,000, who used it for a Carburettor run and displayed it at Motorclassica and the Ferrari Club Australia Concours. A little less than a year after buying the 250PF, Greg sold if back to Duttons for $875,000 in 2014. By this time, prices of significant Ferraris had started to increase dramatically.
Michael claims that he was unaware that his car had been sold. In mid 2014 Michael started negotiating with DK Engineering in the U.K. for the sale of this 250PF. This was over a year after Duttons had bought the car from Sandro. DK Engineering's offer was, according to Michael, $AUS1.8m. He informed Sandro of this and asked Sandro to send him a photo of the numero interni which is a number stamped on the engine or gearbox casing. Evidence on exactly what that number is was contradictory. Michael had to nag Sandro for quite some time before a photo of that number was sent to Michael. By this stage, Dutton was again in possession of the car, and Sandro got them to take the photo which Sandro them emailed to Michael to help his negotiations with DK Engineering and to prove authenticity of the car.
Sandro told Michael it would be a shame for this car to leave Australia, as all the good cars were being sold overseas and would probably never make it back here. Sandro suggested to Michael that he might be able to find a buyer locally. Michael agreed, but it would have to be for that same amount of $1.8m, to a person with the right bona fides and that it had to be a one off payment, not a 'payment plan'.
At some point after that conversation about selling the car in Australia to stop it leaving the country, Sandro informed Michael that he'd found a buyer, Barry Fitzgerald, at $1.8m. Sandro told Michael that he'd received a deposit of $275,000. Michael was surprised that the deposit went into Sandro's account, according to an email tendered as evidence, and wondered why Sandro didn't immediately send it to him. Michael sent Sandro a bill of sale for the car, which included bank account details. Sandro said he told Michael that the deposit money had got tangled up with personal finances and the refinancing of some mortgages, but that the banks were sorting it out. After a delay, Sandro sent Michael $109,000 with the rest to follow at a later date. After a few weeks Michael started to become agitated regarding how long settlement of the balance of the purchase price of the car was taking. Sandro told him that Barry Fitzgerald had money invested in a 30 day term deposit and would be released on the maturing of that, as well Sandro had organised a letter of authenticity from Ferrari and bought a tool roll from Howard Pigdon, the cost of which came out of Sandro's pocket. Howard says, informally on ferrarichat.com, that Sandro never paid him for it.
During a visit to Australia during this time, Michael and Sandro were having lunch. Michael was nagging Sandro about settlement of the 250PF and claims that Sandro called Barry Fitzgerald's son and was told final payment would be made on Friday. After that, Michael found out that the 250PF was being advertised on the internet internationally by Duttons. He called Duttons about this and was informed, he says for the first time, that they'd bought the car from Sandro over 1 year earlier. Michael went to Duttons to claim his car, but was refused entry. Barry Fitzgerald said, in evidence, that he never spoke to Sandro about buying that 250PF in 2014 and that apart from a passing interest in 2013 when Duttons had first bought it, he hadn't considered it again.
Sandro claims that Michael knew and gave him authority to sell that car to Duttons. Sandro said that Michael had seller's remorse for selling too early before the prices rose dramatically, and that Michael was trying to extort money from Sandro in the amount of what he could have sold the car for over a year later. Sandro claimed that even though he agreed in principle to pay a total of $1.5m to compensate Michael, this was because he felt like he had a gun to his head as Michael had concocted this whole very convincing story and was threatening to go to the police, and not because he was trying to make amends for his wrongdoing. The supposed $275,000 deposit from Barry Fitzgerald was referred to in emails and other documentation between Sandro and Michael. Sandro claimed that this referred to $200,000 he owed Michael for the sale of the 250PF in 2013, plus an interest charge of $75,000 and had nothing to do with any deposit from Barry Fitzgerald.
Noteworthy evidence came from Shannons Insurance. They showed documents that demonstrated that, over the years, Michael had his cars insured with them, and that as he bought and sold them, cars were either added to or removed from the policy. The 250PF was never removed and is, in fact, still insured with them to this day.
Another interesting piece of information that was NOT presented as evidence to the jury, but was argued, was that Duttons was funding Sandro's defence.
On the 12th September 2016, the jury found Sandro guilty of all charges which were, in layman terms, theft and obtaining money by deception. There are other court appearances coming soon for other issues.
The sentence for this crime was 20 months in gaol.
Sandro Terzini and the 1969 Ferrari 365GT 2+2 (Queen Mary)
This criminal matter was heard in the Victorian County Court starting October 17th 2016 and over the many weeks ending 11th November 2016.
The charges were 1 x obtaining property by deception and 2 x obtaining financial advantage by deception.
The first witness was LK and this is was his evidence. He said he is the current owner of the black Queen Mary in question in this trial. In 2005 or 2006 he approached Sandro to restore a grey Ferrari 365GT 2+2 that was in pieces, apart from the undercoat covered body sitting on the chassis and wheels. At the end of 2006 LK sold the warehouse the grey car was stored in and took it to a warehouse Sandro had. Sandro looked over the car in more detail and quoted LK $80,000.00 to restore it. LK thought that sounded a bit high, but after an explanation by Sandro of how that figure was arrived at, LK agreed for Sandro to start the work. Sandro said the restoration would take about 2 years.
LK had other Ferraris which he started taking to Sandro for repairs and maintenance from that time on. Sandro and LK became quite chummy, with LK visiting regularly and the two of them going for coffees etc.
Over the next year, LK became frustrated with the lack of progress on the grey car. Sandro said that he needed LK to pay some money to get it moving. LK made a couple of payments over a few months totalling $70,000.00. By the end of 2008, LK had had enough and threatened to take away the grey car and take whatever legal action was necessary to recover the money he'd paid, as no start had been made on the grey car.
Sandro made a deal with LK to avoid the situation. Sandro owned a similar Australian delivered right hand drive Queen Mary which was black in colour, and had been restored apart from rebuilding the engine. The deal was that the grey car would be swapped for the black car, the $70,000 which had been paid so far for the restoration of the grey car would be put towards the black car, and when the black car was complete, the final $10,000 would be paid.
An invoice was shown in evidence to reflect the purchase of the black car in the amount of $70,000 from Sandro to LK. The date on this invoice was December 2007. LK wasn't sure if this date was a typographical error or was used to reflect the approximate starting time of when the payments totalling $70,000 started.
LK was told that the engine rebuild would take about six months.
This was much more satisfactory to LK rather than waiting 2 years for the grey car to be completed, assuming Sandro actually started on it.
By 2013, there was once again very little work done on this project, much to the frustration of LK. LK decided that because of the dramatic increase in value in the black Queen Mary, that he would borrow money against it by way of a chattel mortgage. He informed Sandro of his intention.
A valuer attended Sandro's workshop, and was shown over the car by Sandro. The valuation was for $320,000 which is the amount that was borrowed. The loan was subject to the car being road worthy and registered, which of course meant that the restoration had to be completed.
In early 2014 the car was finished. Sandro told LK that he should join the Ferrari club as Sandro was the official Ferrari club Mechanic which meant that Sandro would be able to write a letter stating that the car was safe for the road. This letter was needed as part of the process to get club plates. The relevant forms were filled in and LK took these to Vic Roads and returned to Sandro's workshop a couple of days later with the club plates which Sandro helped him attach to the car. At that point, LK asked Sandro if he could drive the car, but Sandro informed him that the engine had no oil in it as he had run out of time.
Sandro asked LK to leave the car in his workshop as the restoration of the grey car had progressed by this stage, and Sandro wanted to use the black car as a template for wiring etc. LK agreed to this.
LK said that the $10,000 that was outstanding (from the initial $80,000 for the restoration) was covered by a $4500 soil report on a property belonging to Sandro which was paid for by LK, and a $5,000 deposit paid
to Sandro for the purchase of a Ferrari 330GT that never materialised. As far as LK was concerned, the transaction for the black Queen Mary had been finalised, until he found that the engine had been removed and dismantled.
In April/May 2015, Sandro confided to LK that he was having some financial difficulty, and that the ATO was going to place his business into liquidation. LK immediately decided that he would remove the three cars that he had at Sandro's workshop. The next day, LK picked up two of his cars. The day after that he arrived with a tray truck to pick up the black Queen Mary. As he was pushing the black Queen Mary towards the truck, he noticed that the steering was very light. He opened the bonnet, and was furious to discover that the engine was missing. One of Sandro's mechanics told him that the engine had been taken out and pulled apart, and showed this to him in the engine room. LK told the Mechanic to pack up the engine and that he would return the next day to pick it up. Sandro was not there at the time.
When LK arrived the next day the property was inaccessible as the front gates had been padlocked. An email was sent from Sandro to LK telling LK to contact the liquidator that had been appointed to retrieve his engine. The liquidator was contacted by LK showing photos and documentation from Vic Roads, and LK was able to retrieve the engine from them. The liquidator was also sent an e-mail by Sandro stating that LK was the owner of the engine. Sandro also physically went to his workshop and pointed out the engine to the liquidator saying it belonged to LK. LK picked up the engine and took it home.
At the end of May 2015, LK received a phone call from a man named FG. LK had never heard of FG before this. FG stated that LK had something of his and that he'd like to retrieve it. FG clarified that he was talking about the black Queen Mary. FG said he had paid Sandro $120,000 towards the car and that the balance would be payable when the engine was complete. LK told FG that he should have done his due diligence and that the car was his. LK tried calling Sandro for two days after this, but could not get any response. LK finally met up with Sandro at his workshop and confronted him about the situation. Sandro said that he had not sold the car to FG but that the money was a loan from FG, who was an old family friend, which had to be repaid by a certain time. Sandro admitted that he offered the black Queen Mary to FG as security, but LK had nothing to worry about because he would of course some repay the money before being. Sandro told LK that he never gave FG a bill of sale, but only a receipt for the $120,000 he'd borrowed.
LK was angry that Sandro had offered the black Queen Mary as security in any way.
The next witness was FG. FG met Sandro at his workshop and told Sandro that he was wanting to buy a carburettor Ferrari. Sandro showed him the black Queen Mary and told him that he had owned it for many years and that it was fully restored apart from an engine rebuild.
They made an agreement whereby FG bought the car from Sandro for $250,000 with $120,000 payable now and the balance when the car was completed. This was to be done in 6 months from that date, so complete by September 2015. Part of the deal included new Borrani wheels and tyres. FG paid the $120,000 deposit and Sandro gave him a bill of sale which stated that Sandro was the owner and that the car was unencumbered and free of any lien, as well as the details of the work to be done and the finish date and full purchase price.
FG visited Sandro's workshop in May 2015 to see how work was progressing and was surprised, since it was a Wednesday afternoon, to find the roller door down and the office door locked. FG returned about a week later, on the 18th May 2015, and whilst the roller door was again locked the office door was open this time. He went inside and found one of the mechanics there. FG walked into the workshop and realised that the black Queen Mary wasn't there. The mechanic told FG that Sandro was having problems with the ATO and that LK had taken the car and that he thought it might have gone to a warehouse in Cochranes Rd Moorabbin where Sandro was going to resume his business. FG attended that address and found it empty. FG went back to Sandro's workshop and told the mechanic what he'd found. The mechanic said that if the car wasn't in Moorabbin, then he had no idea where it was. FG saw LK's phone number written on Sandro's desk, so he made a note of it. FG tried many times over many days to contact Sandro without success.
FG called LK and his story agreed with LK's account of the phone call, except that FG added that LK said "That cunt got you too, hey?" LK told FG that it was LK's car and that he had it at his home. FG carried out a PPSR check on the chassis number and found that there was a registered interest by a finance company. This was the company that lent LK the money using the car as security. FG tried to organise a meeting with Sandro at which Sandro assured FG he could show documentation proving ownership. Sandro didn't turn up to these meetings. FG went to the police to report the incident.
The next witness was PK, who was working as the workshop manager for Sandro. He said he remembered a conversation with Sandro where Sandro said he was selling the car to LK. PK wrote a letter on Sandro's behalf to say that the black Queen Mary would be ready in March 2014 so that financing can be arranged.
The next witness was a staff member of the liquidator. He said that he'd received an email from Sandro confirming who had 3rd party property at the workshop. LK was one of those people, and he was identified as the owner of the engine of the black Queen Mary, both in an email and then the engine was pointed out by Sandro in person.
The next witness was the police informant. They played the video of the interview of Sandro which went for 90 minutes. During the interview Sandro said that the $70,000 LK paid towards the black Queen Mary was a part payment of the total price of $150,000 as is, with the cost of the engine rebuild not included. Sandro said that he told LK that he now needed the money and that if he didn't pay the balance, he'd sell the car to someone else. FG came along and made the offer. Sandro said he told FG about the situation with LK and vice versa, but both LK and FG deny this ever happened. Sandro also claimed that he didn't know that LK had financed the car and doesn't know how LK got the club permit for the car.
The informant asked Sandro about his financial position. Sandro said he owed the ATO $250,000 including penalties and interest. He tried to go into voluntary liquidation, but the ATO stepped in before he had the chance to do this. He stated that he'd tried to keep the business going, as it had been quite successful. Sandro also admitted that at the time, Michael Kudelka had started proceedings against him for the 250PF (see previous trial "Sandro and the Ferrari 250PF") in the amount of $1.5m. Sandro admitted that he therefore had potential liabilities exceeding $2m at the time he sold the black Queen Mary to FG. Sandro said that it was LK who had got him into this mess.
During his own giving of evidence, Sandro said that he thought that LK got the loan on the car so that he could pay the balance of the $150,000 for the black Queen Mary (less the $70,000 already paid) and that the car was sold as is and didn't include the cost of the engine rebuild. This was in late 2008 early 2009. Sandro said the car would be finished by May 2014, so that LK could organise the finance.
Sandro said that he thought LK had taken the car to Moorabbin which was going to be the 'new' workshop. In all the months that LK had the car, Sandro didn't do anything to get possession of it. Sandro said that he told the liquidator that the engine belonged to LK because he didn't want the engine sold off by the liquidators and wanted to make sure that the engine and car stayed together.
There was lots of evidence given by all the witnesses, but where it was agreed between all of them, I haven't bothered repeating it.
After all the evidence was given by the witnesses, the barristers gave their closing address. The prosecutor just summarised the evidence. Sandro's barrister, however, asserted that the investigation was carried out by the police under the assumption that Sandro was guilty. LK wasn't properly examined, and everything he said was believed without question. Sandro's barrister pointed out that despite the person who did the valuation for the car for the finance company that LK used, he was never called to give evidence. He also pointed out that despite all the people involved in the loan from the bank's side being in Melbourne, the prosecution only got evidence from Sydney via video link of someone who had nothing to do with the setting up of the loan, but only confirmed the documentation that the bank had. Further, Sandro's barrister claimed that LK had motive to lie, because the documentation he'd submitted to the bank was fraudulent, and that is the reason why the jury should take LK's evidence with a pinch of salt, as well as the evidence by the police who hadn't done a proper job investigating because they'd already made up their minds.
Sandro's barrister also pointed out that until payment in full is received, property of the goods doesn't pass and therefore even though LK had paid part of the purchase price, according to Sandro, that the car was still owned by Sandro because final payment hadn't been made. Sandro's barrister also went to great lengths to make sure the jury understood that it's up the the prosecution to prove guilt beyond reasonable doubt, which is the highest burden of proof needed. He also pointed out that 'not guilty' doesn't mean innocent, it just means that the prosecution failed to meet the burden of proof.
After that, the Judge gave a summary of the evidence and explained the points of law and the jury went to deliberate.
On Friday the 11th November, the jury requested a definition of "unencumbered" and "lien", the words used in the bill of sale of the black Queen Mary from Sandro to FG. The Judge gave this information to the jury and explained how it pertained to this case with evidence from the trial.
A little before lunch on the same day, the jury delivered their verdict. Not guilty on all charges.